Family and Farming Since 1971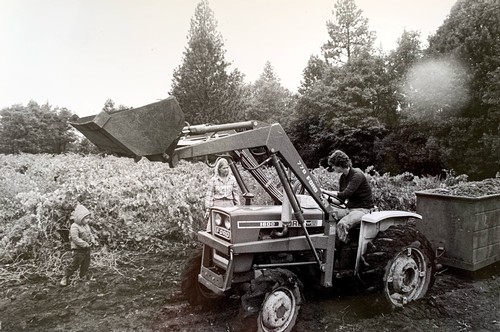 When Bob first came to the property he just knew...
1971
Bob Brakesman purchased the 28 acres of what would become Summit Lake Vineyards & Winery.
1972
The year was spent clearing out the "Old Zin" blocks on the property and pruning them back.
Bob and Sue's Daughter Heather is born, in the middle of harvest.
1973
Our very first vintage of "Home Wine" harvested and crushed in the old root cellar under the house, by friends and family of Bob and Sue. Our first acre of Cabernet Sauvignon was grafted and planted on the estate by Bob and Sue.
1974-1975
Our first two acres of Zinfandel was hand grafted and planted by Bob and Sue on the estate, using budwood from the Old Vines.
1975
Bob and Sue's son Brian is born in October, in the middle of harvest.
1978
Bob and Sue's son Danny is born in September, right in the beginning of harvest.
1985
CA Bonded Winery #5255 build and bonded. Summit Lake Vineyards very first public release, a 1978 Summit Lake Vineyards Zinfandel.
1992
Bob kept the Cabernet Sauvignon seperate to make one of the first "single varietal" wines for Summit Lake Vineyards.
1994
The Brakesmans name and release their Cabernet Sauvignon for Emily Kestrel, their first granddaughter.
1996
Our first vintage of "Port" was harvested on the property in late November.
1997
The second granddaughter, Clair Riley is born and the Brakesmans name the "Clair Riley's Pirate Reserve" Zinfandel Port for her.
1998
Our last vintage of wines produced off of the Old Vine Zinfandel was used to make the 2nd vintage of Port.
2001
1/3 of an acre of Petite Sirah was planted behind the winery.
2003
Sue Brakesman passes away, leaving a crossroads for the Brakesman Family. Heather comes on in December to work full time with her Dad at the winery.
2006
Our first vintage of Petite Sirah is released and named for Bob and Sue's third granddaughter Sophia Lynn. Our first vintage of our Blythe Susan Rose was named and released for Bob And Sue's fourth granddaughter Blythe.
2009
Brian joins the family business fulltime, taking over the winemaking responsibilities at Summit Lake Vineyards.
2014
The first Boys Blend Red Wine is made in honor of the grandsons of the family, Ben Brakesman (Brian's Son) and Shane Brakesman (Danny's Son).
2018
Challenging the "norms" of winemaking again, we produced our very first sparkling wine, a beautiful Sparkling Rose of Zinfandel.
2021
Summit Lake Vineyards 50th Anniversary